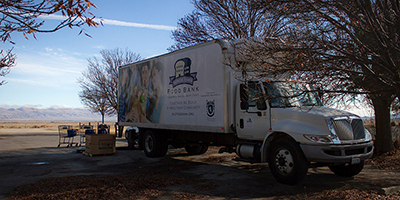 Here is the year in the life of the Food Bank Coalition in two quick stories. Thanks to all who made it possible by their stewardship of time and talent and to our gracious donors who act in furtherance of our mission.
One
At a community leadership meeting this Fall, someone asked what would happen if the Food Bank Coalition went away. A leader from Atascadero Loaves and Fishes raised his hand and said, "We don't get all of our food from the Food Bank Coalition. We do some grocery rescue on our own and we accept some restaurant donations."
He continued, "But what we get from them is dependability. The Food Bank Coalition provides assurance to us that we will have reliable access to top quality food. This evens out our offerings and ensures we can operate on a near daily basis to provide for hunger relief needs in our local community."
Two
At a spring food distribution in south county a family walked away with a 15-pound bag of healthy shelf stable product and a 15-pound bag of fresh produce. The mother said to one of the volunteers, "This is great. Tonight we will have our choice of what to eat for dinner."
To Review
The breadth of our impact this year can be summed up in the fact that we take advantage of our coalition nature to bring dignity to those who have limited choices in placing food on the table for their families.