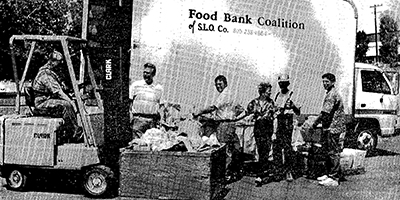 When the Food Bank Coalition of San Luis Obispo County opened on Valentine's Day in 1989, it consisted of a 4,000 square foot warehouse space in Paso Robles with a Knudsen ice cream truck in back acting as its only cold storage and a second truck to use for deliveries. By the end of that year the organization was serving 7,000 households per quarter at 17 food distributions sites throughout the county. Besides an executive director, office and warehouse manager, the organization was nearly 100% volunteer run.
Today, 30 years later, we operate out of a new, centrally-located 20,000 square foot facility in San Luis Obispo, 15% of which is refrigerator and freezer space. We distribute food to 14,000 households per month at 60 public distribution sites and through our network of 78 agency partners, serving every community in the county. We provide specific programs, like summer breakfast for children and farmers' markets for seniors, which are tailored to serve our county's most vulnerable populations. Our gleaning program harvests 250,000 lbs of produce from local growers each year. This year our operation will rely on 27 paid staff, a fleet of 11 trucks and the help of over 3,500 volunteers to increase food security for individuals and families in San Luis Obispo County.
The Food Bank Coalition started from humble beginnings, but was fueled by a strong belief: that no one in our county should go hungry. While the people involved, scale, and location of the Food Bank Coalition has changed over time that original vision has remained constant. Over the past 30 years, every time our leaders approved funding, every time a volunteer handed a bag of food to someone at a distribution, and every time a church group organized a food drive they were getting closer to realizing that vision.
» Read more about: Celebrating 30 Years of Our County's Response to Hunger Relief »