Everyone Deserves Access to Nutritious Food
With the help and support of our donors, volunteers, and the caring community, the SLO Food Bank distributes millions of meals to our neighbors in need through our distributions and agency partners. We are committed to providing food assistance to anyone who needs it and to help all SLO County residents thrive.
The SLO Food Bank strives to provide low barrier access to healthy food to anyone in need. We believe that there is no single solution to hunger. With a diversified response, our amazing volunteers, agency partners, and staff members can meet the unique challenges experienced by every person seeking our resources.
Neighborhood Food Distributions
Our Neighborhood Food Distributions are free to income-eligible recipients, open to the public, and strategically located in every community countywide. These distributions are held at a variety of sites including community centers, schools, and other public spaces and are run by SLO Food Bank staff, committed volunteers, and community partners at 65 distributions per month at 52 locations.
At these distributions, recipients can obtain a variety of foods, including bags of fresh produce, bags of shelf-stable food and meat. Additional food such as dairy products or bread are available depending on availability.
Note: If you would like to spread the word about any of our public food distributions please visit our SLO County Food Distribution Flyer page for quarter and whole page flyers available in English and Spanish.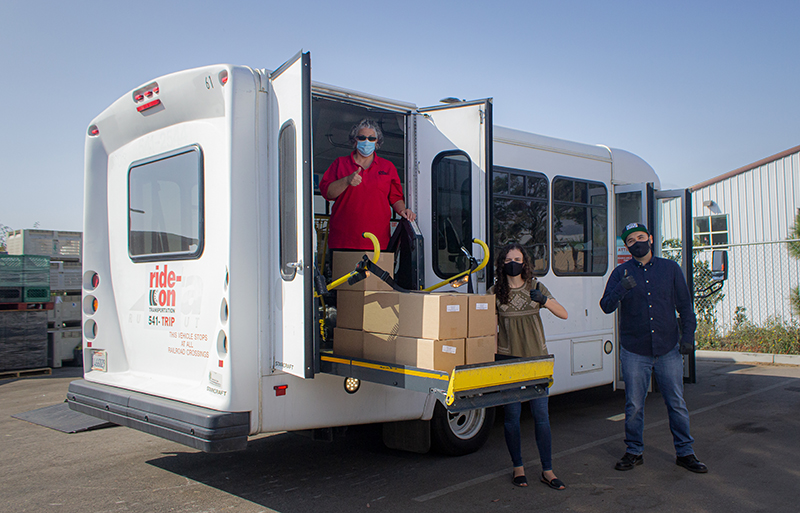 Senior Home Delivery
Thanks to grants from the Community Foundation of SLO County and Feeding America, we are now equipped to deliver groceries on a weekly basis directly to the homes of low-income older adults who are homebound due to access barriers or other reasons such as medical vulnerability, especially amid the Covid-19 pandemic.
Through a partnership with Ride-On Transportation and Wilshire Community Services, we are ensuring that one of our most vulnerable populations can have access to nutritious food.
Agency Partners
Every day, we work to nourish the needy, but we don't do it alone. More than 80 Agency Partners regularly donate their resources, facilities, time, and energy to further the mission of the SLO Food Bank. Our Agency Partners are a collection of different nonprofits with different missions that all share the same guiding principle: everyone deserves access to nutritious food. From large-scale food pantries to children's snack programs, we work with each nonprofit to provide them with the foods that best meet the needs of those they serve. Through their efforts, these community partnerships more than double the hunger-relief impact of the SLO Food Bank across the county.
Each Agency Partner receives access to nutritious foods such as locally grown fruits and vegetables, California-raised meats, and edible food rescued from local grocery stores and bakeries, plus pantry staples like rice, pasta, beans, and canned goods. In 2020, over 95% of the food we supplied Agency Partners was at absolutely no cost to these hardworking nonprofits.
In conjunction with food resources, we support our Agency Partners through other resources, too. Our goal is to consistently support our Agency Partners through supply, support, and advocacy so they may focus on their core goal: feeding people.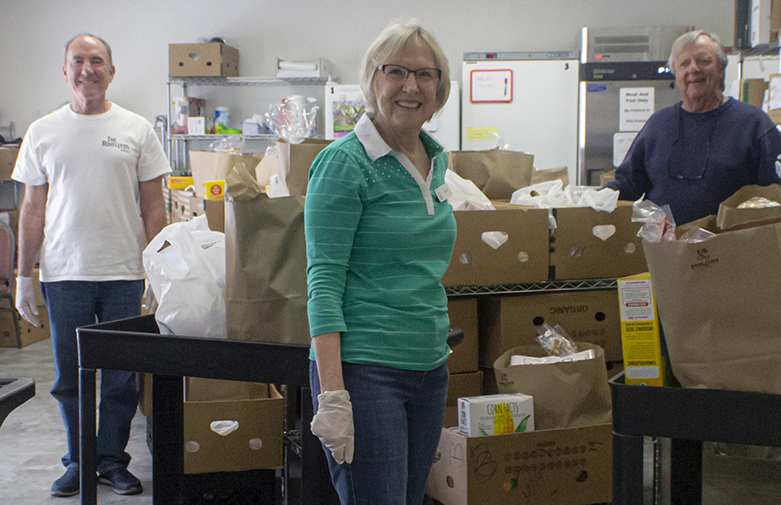 Where does the food come from?
Every household visiting one of our distributions or pantries receives an abundance of healthy foods. To achieve this, the SLO Food Bank uses a spectrum of food sourcing strategies to maximize the impact of every dollar we receive through donations and grants. Our team also prioritizes purchasing through local wholesalers and producers whenever possible.
Here is list of food sources that we use: