Outreach & Education
Good Nutrition Starts with Education
The SLO Food Bank empowers people to make healthy choices in their everyday lives through outreach and education. ​The SLO Food Bank team travels to distribution sites and agency sites throughout SLO County to provide free educational resources. Classes and activities are structured in a way that complements each distribution site's unique community culture. Everyone is welcome!

What We Do
The SLO Food Bank helps the community find creative ways to prepare the foods we distribute and works to empower community members to make healthy dietary choices. We understand the barriers to engaging in healthy behaviors, including various social determinants. By providing access to fresh produce and nutritious food options at each distribution site, we help build a healthier, hunger-free community. The Nutrition Education Program supplements food assistance with nutrition education through recipes, presentations, cooking classes, handouts and various other resources. We also partner with schools, child-care programs and assisted living homes to provide fresh produce, as well as nutritional education, to the youth and elderly throughout the county.
Children's Farmers Markets
This program creates a Farmers Market environment for kids, allowing them to select from a variety of fruits and vegetables to take home to share with their families. Children are given "Food Bank Bucks" to simulate a shopping experience. Participants take home 10 to 15 pounds of fresh, seasonal produce items, such as potatoes, apples, oranges, cabbage, squash, pears and lettuce. We hold 19 to 22 Children's Farmers Markets that serve more than 1,100 children and their families each month, helping to grow a foundation for healthy eating.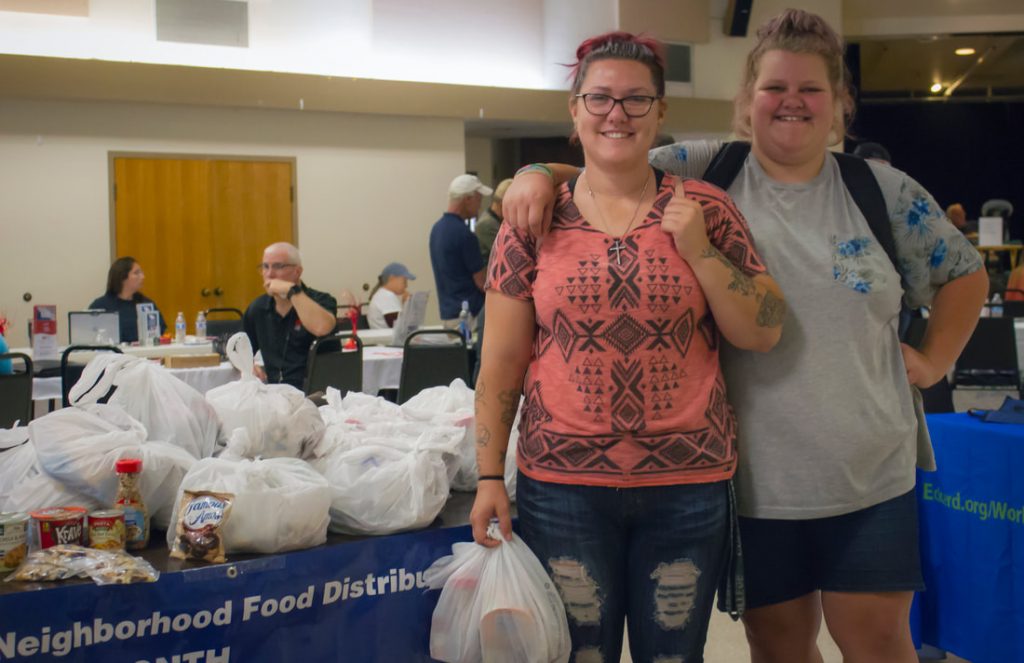 No-Cook Bags
Homeless individuals do not have access to the tools and appliances needed to prepare or consume foods. That's why we worked with different community partners and local sponsors to create No-Cook Bags filled with nutritious foods that require no heating, cool storage, or specialized tools to safely eat, including granola and protein bars, nutrient-fortified cereals, canned protein such as chicken, nut butters, jerky, protein shakes, pop-top cans of soups, beans and fruits, fresh fruit as well as bottled water.
In 2018, we worked with 37 different groups to distribute over 8,000 bags throughout the county. If you are part of a non-profit or government organization that regularly interacts with the homeless or transient populations of SLO County and are interested in distributing our bags, please complete the No-Cook Bags Participation Form & Agreement and email it to our Partner Services Manager Suzie Freeman or fax it to (805) 238-6956.
Nutrition Education
​​Through community outreach, our programs aim to:
Empower community members to engage in healthier behaviors, leading to more overall positive health outcomes in order to improve their physical, social and emotional well-being.
Increase the availability and consumption of local produce, whole grains and other nutrient-dense foods.
Improve community members' contextual skills in the kitchen, therefore increasing the likelihood of preparing more meals in the home using fresh produce and nutritious ingredients.
Senior Farmers Markets
As we age, fruit and vegetables are recommended for maintaining health, but many older Americans do not consume enough on a regular basis. Seniors living on a limited or fixed income often have to choose between basic needs (housing, medical bills, etc) or purchasing healthy food. This financial barrier may also be compounded by a lack of transportation or mobility. In cooperation with local housing complexes and mobile home parks, we are ensuring that low-income seniors have monthly access to a variety of fresh produce at a Senior Farmers Markets that is easily accessible for them. In addition, these markets have also become a regular community event where residents check in with each other and organize community meals with produce from the market.
Summer Breakfast Bags
Once school is out during the summer, daily access to free meals is limited or nonexistent and many parents struggle to provide meals for their families. Our Summer Breakfast Bags help close this hunger gap. Each bag provides multiple weeks' worth of nutritious breakfast foods, including cereal bars, instant oatmeal, cereal, peanut butter, milk, and canned and dried fruit. In partnership with youth organizations, school districts, local housing authorities, and other social service organizations, we distribute the bags to children in SLO County's highest need areas during June, July, and August.
Eligibility is determined by household size and income. In SLO County 43%, or 14,600 K-12 children, are eligible for free or reduced priced meals during the school year. In the 2018-19 school year, children in a household of four received free meals at school if the household's annual income was less than $32,630. If the household's annual income was less than $46,435, they received reduced price meals. To participate in this federal program, families must fill out an application at the beginning of the school year.
Become A Volunteer
Volunteers are needed for all Community Outreach and Nutrition Education Programs. To learn more, please take a look at our volunteer opportunities.